New! "Jazzotica"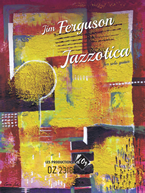 Jim's "Requiem For A Fallen Artist" is now available as a solo publication! This piece is featured in 25 Compositions, a collection celebrating the 25th Anniversary of Les Productions d'OZ, along with other solo guitar works by notable composers such as Máximo Diego Pujol, Roland Dyens, Bernard Piris, and Francis Kleynjans. The marvelous Canadian guitarist Marlène Lemay brings all the pieces to life on the anniversary CD.
Solo guitar suite: Four Monsters ("Frankenstein Meets The Jazzman," "The Raven Vanishes," "Mad Love," and "The Fly"), a musical exploration in various shades of darkness. See Catalogue for details, and read the full review here: Monsters Review.
Also check out Film Noir—Four Scenes ("Dark Streets & Shadows," "Wheelman," "Femme Fatale," and "Heater"), Jim's ambitious tribute to classic films of the 1940s and 1950s. See Catalogue for details and sound samples, and read the latest review here: Film Noir Reviews.
Read Jim's experiences about using the right-hand little finger in fingerstyle technique: see About C.