New! "Jazzotica"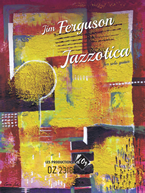 Jim's newest suite for solo classical guitar, Jazzotica integrates jazz harmonies, odd meters, and a variety of other dynamic elements. See Catalogue for details.
New Book! Using common jazz chord progressions, Comping Standards For Jazz Guitar walks you through three primary comping approaches: straight-four, moving bass lines, and combo variants. See Catalogue for details.
"Winedark Sea," dedicated to acclaimed conductor JoAnn Falletta for her praise of Jim's compositions (see Reviews), is a dynamic programmatic piece inspired by Homer's The Odyssey. Featuring Jim's characteristic jazz harmonies, the piece suggests the launching of ships, stormy waters, and calm seas. See Catalogue for details, and read reviews here: Winedark Sea Reviews.
Also check out Film Noir—Four Scenes ("Dark Streets & Shadows," "Wheelman," "Femme Fatale," and "Heater"), Jim's ambitious tribute to classic films of the 1940s and 1950s. See Catalogue for details and sound samples, and read the latest review here: Film Noir Reviews.