New! "Winedark Sea"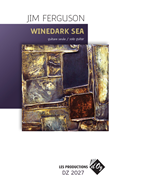 Jim's newest solo guitar suite! Four Monsters ("Frankenstein Meets The Jazzman," "The Raven Vanishes," "Mad Love," and "The Fly"), a musical exploration in various shades of darkness. See Catalogue for details, and read the full review here: Monsters Review.
Also check out Film Noir—Four Scenes ("Dark Streets & Shadows," "Wheelman," "Femme Fatale," and "Heater"), Jim's ambitious tribute to classic films of the 1940s and 1950s. See Catalogue for details and sound samples, and read the latest review here: Film Noir Review.
Read Jim's experiences about using the right-hand little finger in fingerstyle technique: see About C.